One semester down. 1.5 semesters left...or so I hope. While I was drowning in finals, here's what I missed in the land of all things musical. Sad to report, but none of this covers publicity stunts known as ~leaked~ nude pics (looking at you
Rihanna
) and pointless
blog post fights
between
Eminem
and
Nick Cannon
over
Mariah Carey
(how
Rainbow
era!).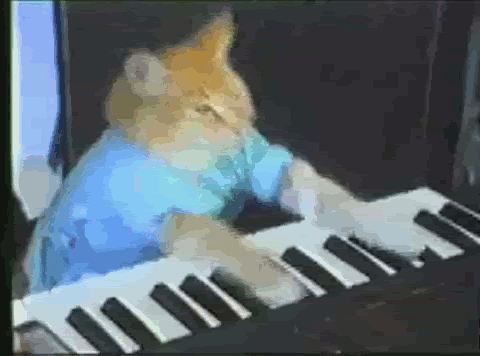 1.
Keyboard Cat
: I'm literally
obsessed
...this cat is mad soulful and he is right on time when he
plays failing folks off
. Oh, see the .gif above? It plays right along side the piano intro of
Babyface
's
"Tender Lover"
. It's maddening.
2.
Amerie's Returns and asks "why?"
: Just the other day, I was reminiscing with BFF Guyna about 90's R&B and how we wish it kind of came back. Well, Amerie must have been eavesdropping on our conversation because she has released her new song, "Why R U?" and it recalls those days of hats 2 da back and
Mary J. Blige
talking about "Real Love". "Why R U?" is a wonderful return for the singer who is prepping to release her fourth album,
In Love & War
. It's got a slip n' slide crackling hip-hop back beat but it eases into a infectious soulful state of mind. Me loves. Let's just hope that this gets some attention so Amerie can squash those R&B diva wannabes like bugs this year. Take a listen below:
3.
Who is MPHO?
: An acronym for a person who is a Mega Pancake Horder Oddball? No,
MPHO
is a new music sensation from the UK that is melding what we love about pop, rock and hip-hop and making it into her own tartly irresistible creation. Think if you threw
Santigold
,
Debbie Harry
and
Cyndi Lauper
into a skillet and scrambled things about. The singer-songwriter-producer, is about to unleash her debut album,
Pop Art
, come this Fall, and from the sound of first single, "Box n' Locks", it's going to be torturous wait. "Box n' Locks" sounds like a long lost 80's gem as it is laced with a guitar sample from the new wave song, "Echo Beach" by
Martha & The Muffins
. The song has all the elements of what to expect from a dazzling pop-rock gem. Check it out
here
and put MPHO on your watch list this instant.
4.
Mr. Hudson and Mr. West Conquer The 'Supernova'
: BFF's Kanye West and Mr. Hudson have finally unveiled their current collaborative concoction and it's the bombastic, "Supernova" off of Hudson's upcoming,
Straight No Chaser
. First listen verdict: I
smell
a hit. Let's just see if my senses are not wacked out, listen below: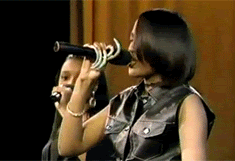 5.
Coko's Nail Art Is Retrospected
: My life is seriously complete. I have been
waiting
for someone to point out the obvious artistry of
SWV
's lead singer,
Coko
's nails and lo and behold, the always on point
FourFour

has done so brilliantly
. Feast your eyes on those talons! As I am a nail polish nut, this is something I cannot begin to do. The colors, yes, but the length,
hell
no, I'll scratch my own eye out! How did she survive the 90's with those nails?
How?
And if I was the other sisters with voices, I would've been mad jealous at all the attention the nails got...not to mention antsy at being close to her. Coko could cut a bitch with those.
6.
Mika's Returns...In A Somber State Of Mind
: Oh, wasn't
"Grace Kelly"
a great song? Yeah, it was kind of too chipper for its own good and it's a wee bit pretentious, but damn, it was
good
. So is Mika going to grace us with more teeth-achingly catchy pop music? Erm...not quite. The British pop singer is stripping himself of the
Freddie Mercury
persona and getting a little bit well, ~serious~. Mika is
releasing the

Songs For Sorrow EP
on May 25th and it's to feature four new tracks and a 68-high quality booklet of artwork done by some of Mika's fave artists. The song, "Lonely Alcoholic" has been leaked and its a bit more bare bones than what we're used to. Take a listen of the track
here
.
7.
Miss Bextor's Digital Get-Down
:
Oooh, pretty flashing colors. The Bextor once again makes you believe in the beat.