Yes, I'm shocked too, Kris.
Oh, where to
begin
about last night's festivities? A mini snark run-down of the best bits:
Cyndi Lauper

was there, with the best performance of "Time After Time". It was

monumental

.


Rod Stewart

looked a little under the influence of some brew, possibly not knowing where he was.
AI Judge

Kara Dioguardi

proved that she is a massive attention whore.
Norman Gentle popped up being the fabulous being he is.

Black Eyed Peas

and

Fergie

had the censors all over them as they performed the awful, "Boom Boom Pow" and Fergie sang "Big Girls Don't Cry" for the 7,737,789th time.

Lionel Ritchie

managed to make "All Night Long" boring. I blame contestant,

Adam Gokey

, who was at his side being obnoxious.

Someone got "escorted" off the stage by security, mid-broadcast.
AI Judge,

Randy Jackson

, out tackied finalist,

Adam Lambert

in that Dr. Dolittle outfit.

Queen

and

KISS

were there...but no

Aerosmith

.
Oh, and finally the two

best moments

...Contestant

Matt Guiard

's scrunched up ~serious~ singing face during the performance of "Smooth"....and contestant,

Anoop Desai

being the only believable person singing, "Do You Think I'm Sexy?"
If you saw my
Twitter
, I kind of gave a mini-live blogging account and boy oh, boy was it fun to snark along to one of the most campiest finales in the history of
American Idol
. Seriously, who
cared
that
Kris Allen
won? He cannot compare to fellow contestant (and the shoe-in winner),
Adam Lambert
's
Grace Jones
-esque
spacesuit contraption
or the fact that
Steve Martin
's banjo playing is oodles better than contestant,
Megahn Joy
's
howling
singing. Oh, yes,
American Idol
served up the cheese platter with Cheez-Whiz on top this year. There was so much glitter, spandex (looking at you
Queen Latifah
and
Lil' Rounds
), microphone hogging and dry ice machinery going on that it felt like a disjointed musical on stage. If you missed the show, don't worry, clips of it are probably all over YouTube and on
American Idol
's
official site
, and if you need literature on what went down, there is a full on-the-minute recap
here
, especially if my spill didn't do it justice. Let's hear it for Idol for bringing the entertainment this season and hope that next year they serve up more priceless moments.
*Discuss the
American Idol
finale from Kris's win to Adam's outfits to what were the most laughable moments of the evening in comments!*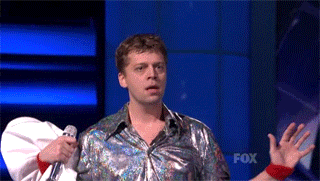 ~Norman Gentle welcomes you into the comments...
(yes, I cannot stop with the .gifs this week, help me)
~